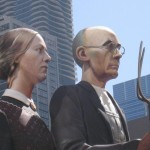 Pagan comes from the Latin word paganus, meaning country dweller or rustic. It was meant to be a slur. To call someone a pagan approximates to calling them a redneck. I'm all for embracing the things that cause you pain. As Tyrion says, "Never forget what you are. The rest of the world will not. Wear it like armor, and it can never be used to hurt you." That being said, I ain't country folk.
I've lived in the country. Rode an hour on a bus to get to the nearest school. I like the country. Enjoy being there, and the people that live in the country. But it's just not me. I'm a city dweller. My greatest lament in being a pagan is that it seems every large event requires camping. I do not camp. Why can't they hold those things in nice hotels?
I was recently asked, what religion do I follow? My answer was a mix of neo-paganism and Thelema. But even my paganism is a different shade than most. The gods I revere, Thoth, and Babalon, are not nature gods. They are city gods. One is an intellectual deity, the other, a prostitute. While sex for money came along well before cities, institutionalized prostitution came with the throwing together of the masses.
A look at the ancient near east deities, of which I include Babalon as a modern incarnation of Inanna, shows a group of gods much different in character than the Celtic and northern European pantheons favored by most neo-pagans. They come from cultures that were creating civilizations based on the city. It makes them no better or worse than gods coming from cultures without major settlements or written language, but it does make them, in my opinion, better suited to modern life.
This does leave me with me with some sticky problems. Kind of like how Thelema takes everything and smashes it into Kabbalah, neo-paganism takes a pantheon and then smashes it into the Wheel of the Year. It doesn't always fit. Why would someone who worships the Kemetic deities use holidays based on a European agricultural cycle? Wouldn't they celebrate the flooding of the Nile? And how does the flooding of the Nile matter to them now?
One answer could be that no matter what, those cycles do affect us, living in country or city. Also, those cycles exist in the microcosm, reflected in the life-cycle of human beings. But that only goes so far. I personally celebrate the Festival of Thoth on August 6th. But the rising of the Dog Star doesn't mean much me either, not being an astronomer.
How do we adapt our practices to the life we're living today? Do we throw a party when they switch over from the summer to the winter mix of gasoline and the prices go down? That's a shitty idea. But I do think it's important to reflect on the passing phases. It gives us mindfulness and perspective.
For now I guess, the Wheel of the Year will have to do. I believe living in cities is important. Despite the pollution they create, they really are the way for masses of people to live with a minimal footprint. A city built right is the natural environment for humans. Or at least some of us. Who can deny how the mix of cultures in our urban areas have created art and innovation? We can do better though. Just like morality, environmentalism doesn't have to be a part of your religion in order to practice it.
Don't forget to sign up for our mailing list to get more Scroll of Thoth in your inbox, including my own banishing ritual. Also, help out the blog by checking out our Amazon recommendations  and using the Amazon search window whenever you make a purchase.