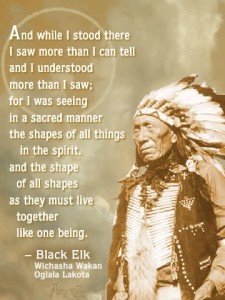 Special guests Doug Poe and Eric Hinkle talk with James and Colleen about Native American spirituality.
You can listen by clicking the link below, download by right-clicking, subscribe to our RSS feed 
  in your favorite pod-catcher, or find us on iTunes.

People and things mentioned in the show
Doug works with the American Indian Center of Indiana.
Books: Black Elk Speaks and The Sixth Grandfather by Black Elk, Crow Dog: Four Generations of Sioux Medicine Men by Leonard Crow Dog, Fools Crow by Frank Fools Crow.
Doug holds a Talking Stick Ceremony every third Monday at The Church Within.
Doug recommends the following videos for the truth about Thanksgiving:
The Real Thanksgiving by Susan Bates
The Truth About Thanksgiving by Time River Productions
National Day of Mourning by Joan Livingston
Thanksgiving: A Native American View by Islamirama
Contact Doug Poe at dpoe@americanindiancenter.org
See James' new blog http://magicalrecord.tumblr.com/ his current magical journal.
You can now download My Babylon – Book One: Body for free at Amazon. Please download a copy to help me move up the charts.
James has released the My Babylon Complete Edition containing all five novellas. You can buy it in on Amazon both as a Kindle ebook and in paperback.
Call and leave a message for the show at 317-296-3247 or email james@scrollofthoth.com.
Connect with Colleen on facebook.
Connect with James at jameslwilber.com, Facebook, Twitter, and tumblr, and scrollofthoth.tumblr.com.
Please consider helping the show by using our Amazon search window and donating via Paypal.
Our music is graciously provided by Shoeboxx Recordings. Check out their music on Soundcloud and like them on facebook. The intro is a selection from Journey by Kouben, the ending music is Hair Dye the WTCHDCTR remix by Eest Coast.