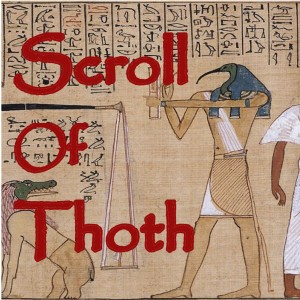 This week Colleen and James have guests Darren Chittick and Grace Starcke talk about pagan leadership and LBGTQ issues in the pagan community.
Our new music is graciously provided by Shoeboxx Recordings. Check out their music on Soundcloud and like them on facebook. The intro is a selection from Journey by Kouben.
You can listen by clicking the link below, download by right-clicking, subscribe to our RSS feed 
  in your favorite pod-catcher, or find us on iTunes.
Grace is a member of the Reformed Congregation of the Goddess – Crossroads, a part of RCG International.
Darren is a minister of The Church Within and organizer of the Novices of the Old Ways Midwest Men's Circle.

People and things mentioned in the show
Order Aeternus Vovin – a Thelemic organization for gay and bisexual men and their event Coph Nia.
Announcements
You can now download My Babylon – Book One: Body for free at Smashwords, Barnes & Noble, Apple, Kobo, Scribd, and via Bittorrent. Please let Amazon know that you found it free at those other websites.
James has released the My Babylon Complete Edition containing all five novellas. You can buy it in on Amazon both as a Kindle ebook and in paperback.
Both Colleen and Grace are members of Indianapolis Pagan Prison Ministries. IPPM is accepting donations of pagan books, please contact Colleen to donate.
Connect with Colleen on facebook.
Connect with Darren on facebook. Please message first mentioning Scroll of Thoth.
Connect with James at jameslwilber.com, Facebook, Twitter, and tumblr, and scrollofthoth.tumblr.com.
Please consider helping the show by using our Amazon search window and donating via Paypal.
The ending music is Hair Dye the WTCHDCTR remix by Eest Coast.