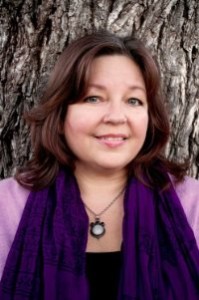 This episode James and Colleen talk with T.J. Burns, author of Writing Wild: Crafting the Pagan Memoir.
You can listen by clicking the link below, download by right-clicking, subscribe to our RSS feed 
  in your favorite pod-catcher, or find us on iTunes.
People and things mentioned in the show
T.J. has been writing stories, poems and bad one-act plays for as long as she can remember. At midlife, and after many other career paths, she turned once again to her first love – writing. In 2008 she earned a MFA in Writing from Goddard College. Today writing is both her passion and her profession.
T.J.'s publications include "Writing Wild: Crafting the Pagan Memoir" and "The Ones Who Dance Alone: Full Moon Celebrations for the Solitary Witch"
She is currently working on another non-fiction book titled "Slow the Wheel: A Crone's Guide for Savoring the Season" and a novel, "Meeting Ganesh at the Silverlake Mall."
T.J. Teaches memoir writing online and is available for one-on-one instruction.
She publishes her pagan books through the Pagan Writers Press.
T.J. also writes fiction under the name Tammie J. Burnsed. Check out her short story
Announcements
Both Laurelei and James will be presenters at the 2nd International Left Hand Path Conference in Indianapolis, July 25th-27th.
Check out all the events at Camp Midian festival site!
You can now download My Babylon – Book One: Body for free at Amazon. Please download a copy to help me move up the charts.
James has released the ebooks My Babylon Complete Edition containing all five novellas is now on sale for $2.99.
Call and leave a message for the show at 317-296-3247 or email james at scrollofthoth dot com.
Connect with Brian and Christie through the Facebook page Your Higher Self Indy, and learn about what festivals they will be participating in.
Connect with Colleen on facebook.
Connect with Shade at http://shadeofroses.tumblr.com/ or at geeksoutafterdark.com
Connect with James at jameslwilber.com, Facebook, Twitter, and tumblr, and scrollofthoth.tumblr.com, http://magicalrecord.tumblr.com/
Please consider helping the show by using our Amazon search window and donating via Paypal.
Our music is graciously provided by Shoeboxx Recordings. Check out their music on Soundcloud and like them on facebook. The intro is a selection from Journey by Kouben, the ending music is Hair Dye the WTCHDCTR remix by Eest Coast.