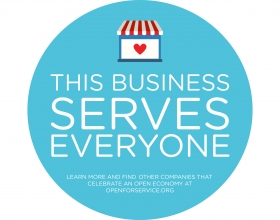 James and Colleen and a host of special guests talk about Indiana's religious freedom law.
You can listen by clicking the link below, download by right-clicking, subscribe to our RSS feed 
  in your favorite pod-catcher, or find us on iTunes.

People and things mentioned in the show
The law and its differences with federal law.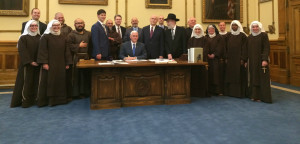 Photo of Gov. Pence signing the bill. More than one news sources has credited this photo to the Office of the Governor.
Notre Dame doesn't want to pay for birth control.
The Governor of Kentucky on same sex marriage
Reformed Congregation of the Goddess
Announcements
You can now download My Babylon – Book One: Body for free at Amazon. Please download a copy to help me move up the charts.
James has released the ebooks My Babylon Complete Edition containing all five novellas is now on sale for $2.99.
Call and leave a message for the show at 317-296-3247 or email james at scrollofthoth dot com.
Contact Helena Zahara through Facebook
Connect with Joel on facebook.
Connect with Greg on facebook, google plus, and twitter
Connect with Colleen on facebook.
Connect with James at jameslwilber.com, Facebook, Twitter, and tumblr, and scrollofthoth.tumblr.com, http://magicalrecord.tumblr.com/
Please consider helping the show by using our Amazon search window and donating via Paypal.
Our music is graciously provided by Shoeboxx Recordings. Check out their music on Soundcloud and like them on facebook. The intro is a selection from Journey by Kouben, the ending music is Hair Dye the WTCHDCTR remix by Eest Coast.