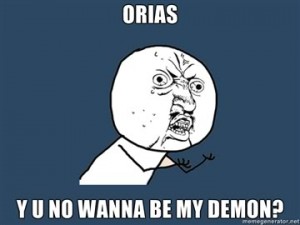 Every week I share with you seven websites with great resources or fantastic art to raise your knowledge and your gnosis.
Good information on goetia can be hard to come by. Much of what's out there is young folks, stumbling in the dark, attracted to the "evil" of demon summoning.
I don't think this is all a bad thing. Perhaps they sense the need to get rid of all the baggage they've accumulated, so they can get on with their adult life. It does, however, making finding good information a hassle. Here's some Scroll approved resources.
Esoteric Archives: Ars Goetia – http://www.esotericarchives.com/solomon/goetia.htm   Why not start with the source material? A good presentation of the Lesser Key of Solomon can be found here.
The Shadows of Goetia – http://hermetic.com/goetia/   Once you're done with the basics, delve deeper into the other grimoires
Occult of Personality Podcast – http://occultofpersonality.net/   Occult of Personality is an incredible resources, and I recommend all of it. Of particular interest for the study of goetia, interviews with two leading experts: Lon Milo DuQuette and Jake Stratton Kent.
The Lion's Den – http://thelionsdens.blogspot.com/   The website of Michael Cecchetelli, author of Crossed Keys published by Scarlet Imprint.
Demons of the Ars Goetia – http://ars-goetia.tumblr.com/   A tumblr blog for entertainment and inspiration.
Strategic Sorcery – http://www.inominandum.com/blog/be-nice-an-approach-to-goetia/    A different perspective on goetic summoning.
Enochian.org – This is the second time I've posted this link. Keep in mind, this is not a recommendation  I have never purchased from this retailer. On the other hand, I have never seen such a variety of the hard to find items used in goetia.