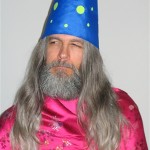 This week, I started a new organization, the Consilium of Tumblr Magicians, and declared myself Grand High Pooh-Bah. I did it on a lark, it's not to be taken too seriously, but I did have my reasons. One, just because I love tumblr and the magicians I follow. The endless scroll of mind-altering images has become a major source of gnosis for me. Second, because one of the rules of the Consilium is that you have to actually get off your ass and practice magick.
I have a confession to make. For the past six months, I've been a shitty magus. Wrapped up in writing my new book, my day-to-day magical operations have gone by the wayside. I am a putz, a terrible example, a lousy magician. Or am I….?
I have believed for some time that Uncle Al's greatest accomplishment as a magician was that he created a religion and got people to follow it. In essence, the Book of the Law became real for a whole bunch of people. He changed reality on a massive scale. I'm not saying it was all nefarious, although his ego did get in the way a lot. I do believe that Crowley thought the world would be a better place if we all followed the law of Thelema. Maybe it would be. What greater task is there for a magus than to change the world for the better?
This in mind, and having an ego of my own, I wanted to do something similar. Why not model at least a part of the world in my own image? The first problem I ran into was that no one would accept a new holy book. We are simply too jaded as a culture to accept new revelations whole-clothe. I don't want to run a cult. I have no desire to be a guru. So I needed a way to disseminate my paradigm outside of my direct teaching.
I thought about writing a book on magick, but really, what are my qualifications? I've never been initiated in a magical order. I have done very little teaching. In comparison to others, Lon Milo DuQuette, Peter J. Carroll, Phil Hine, Rodney Orpheus, Peter Grey, I've done jack and shit.
But while we don't produce holy books anymore, we do produce stories. That I can do. In many ways, stories are better than holy books. They're subtler, and are not seen as unalterable commandments. The meaning of a story can change much easier over time than a holy book can.
So I wrote My Babylon, which in some respects can be seen as a Thelemic fairy tale. I don't push any specific morality or way of living in the book. The characters are human, and flawed, and should not be emulated. But I do present a way of looking at the world which may change your mind.
So for me, writing is a magical act. There are times, when I'm really into it, that I reach of state of gnosis at the keyboard. The words fly from my fingers without thought. Writing is also an act of devotion for me. With every letter I make I praise Thoth, god of magick and writing. The book I am writing now is also a devotion to my sweet goddess Babalon.
So there you go, that's what I've been doing on the magical front. The book is winding down now, however, in a few days the first draft will be complete. I have begun cleaning out my temple, which I have let fall into complete shambles. When the book is done, I will go there, thank the gods, and get back to ritual and meditation. Until the next book takes over my life.