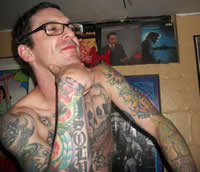 Frater Zentra El talks about Emergent Magick and the Gutter Bible.
Buy the Gutter Bible from Scroll of Thoth Press at lulu.com.
Announcements
You can now download My Babylon – Book One: Body for free at Amazon. Please download a copy to help me move up the charts.
James has released the ebooks My Babylon Complete Edition containing all five novellas is now on sale for $2.99.
Call and leave a message for the show at 317-296-3247 or email james at scrollofthoth dot com.
Connect with Dave Lee on Twitter and facebook
Connect with Colleen on facebook.
Connect with James at jameslwilber.com, Facebook, Twitter, and tumblr, and scrollofthoth.tumblr.com, http://magicalrecord.tumblr.com/
Please consider helping the show by using our Amazon search window and donating via Paypal.
Our music is graciously provided by Shoeboxx Recordings. Check out their music on Soundcloud and like them on facebook. The intro is a selection from Journey by Kouben, the ending music is Hair Dye the WTCHDCTR remix by Eest Coast.