This week I had planned a post on the results of my most elaborate magical ritual to date, what I call the Astrumada Working. Until I realized that the original post about the ritual never made the transition from the blogspot Scroll of Thoth. Since it was my most popular post back then, I thought I would go ahead bring it over here for any new followers. Next week, the long term results of the working. It's been pretty good to me so far.
O! for a muse of fire, that would ascend the brightest heaven of invention.
— William Shakespeare
If you're expecting part two of my look at the Red Goddess by Peter Grey, you may be disappointed. While I will get back to an in-depth analysis of the book, I wanted to share some of my recent workings, which are related.
In my classes and online I come across lots of requests for rituals. I suspect people want a formula, a recipe book of "spells" that they just need to follow and they too can work magick. Sorry, grasshopper, it's not that easy. I'm always loathe to provide them. Without putting in the work, developing gnosis, putting energy into their own belief system, finding their own correspondences, I doubt they would become decent magi. It's not that I'm afraid that someone new to magick may hurt themselves or "toy with powers they don't understand." I consider such proscriptions nonsense. But I do believe they would have limited success that way. While they may produce some minor effects in the short term, they would lack the tools they need to grow. It is in all our best interests if everyone realizes their full potential as magi.
But I've said from the beginning this blog is not for beginners. And where a neophyte could take such information and fail, an adapt can use it as a model for their own workings.
Before any working I spend copious amounts of time researching similar magick, so that I can incorporate that into my own ritual. Which is what brought me to The Red Goddess. I am constantly looking for ways to improve my writing, both the quality and the quantity. I often turn my magick to those ends. Creative people throughout history have benefited from a muse. A creature that inspires them to produce their masterpieces. I lusted for one of my own.
I considered what inspired me. For me, as many of the artists before me, love and lust serve as the greatest motivators. There's some truth in the old proverb that the greatest of works of man were produced to woo women. While the truth is more complex than that, the fire produced by a wanton partner does make my blood boil.
I wanted my muse to be lustful, wicked, mean, demanding, and downright kinky. A combination Babalon/Lilith with glasses and a white blouse. Hiding a whip behind her back. With that in mind went to work. My first question, was I summoning or creating? I have yet to come to a clear answer on that. If time is non-linear, and the number of spirits infinite, how do I know I did not call forth a being that already existed? The examination of this question deserves a blog of its own. I settled on creation. But to leave her unbound. She can be summoned by others, and I sincerely hope you use this information to call her yourself. The more belief she generates the more powerful she becomes. I promise you a good time.
I combined the names of my favorite porn stars and created a sigil from them.
I meditated on her, and I saw her as my burning star, and named her Astrumada. The ritual for her creation I performed on a new moon. First, I cast her sigil upon the floor.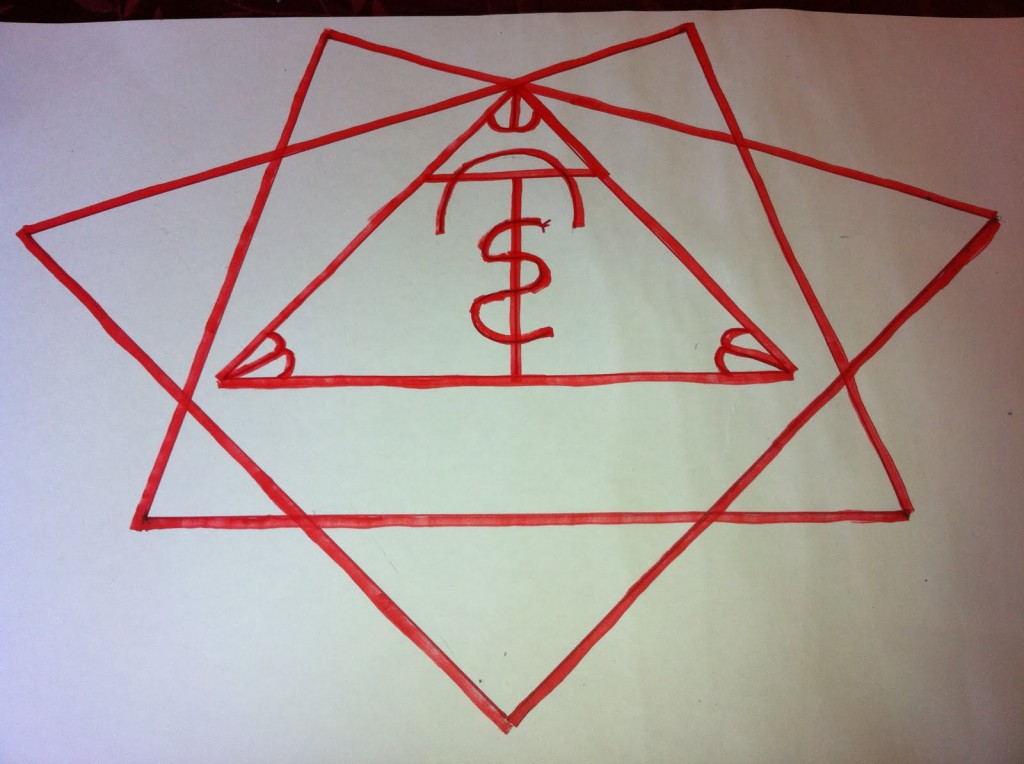 The sigil I surrounded with red candles at the seven points. Like Babalon, she favors roses. I spread the petals from two dozen roses on the sigil, and added three more dozen still on the stem, placed on the sigil and the altar. Being independent and strong she enjoys sins often associated with men. As an offering I laid out her favorites, a glass of fine scotch and a good cigar.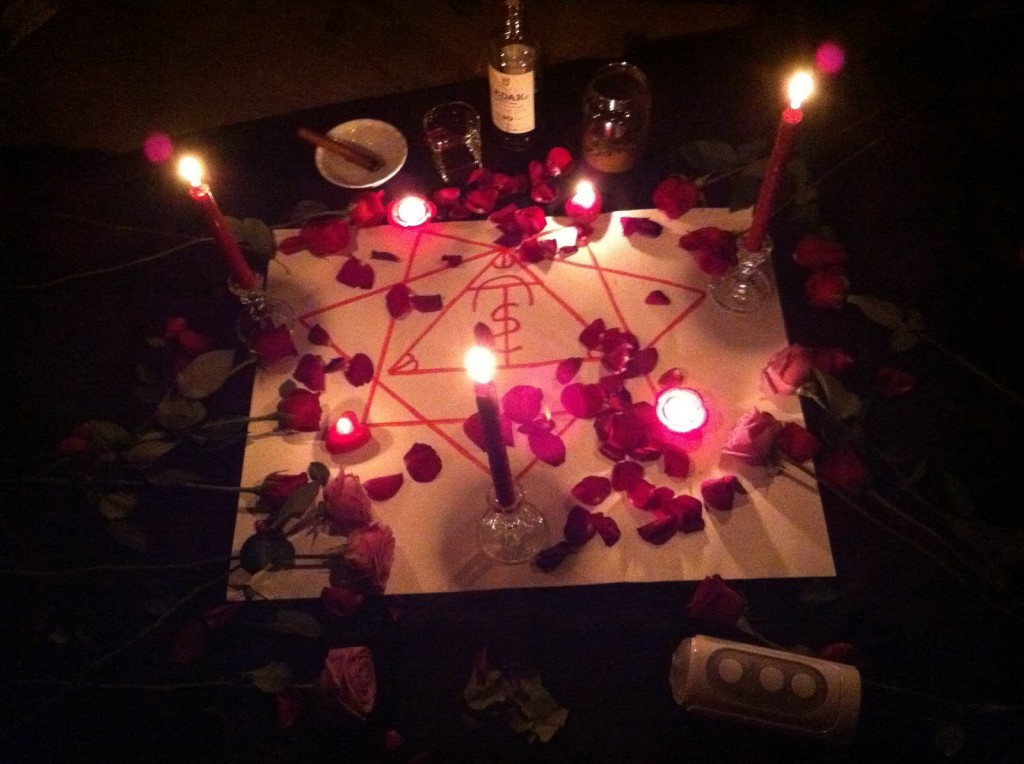 I created a backdrop for my altar. Pictures of the ladies who's qualities I saw in her. I mixed a special incense, of sandalwood, rose oil, musk, and powdered dragon's blood. It created an intoxicating scent.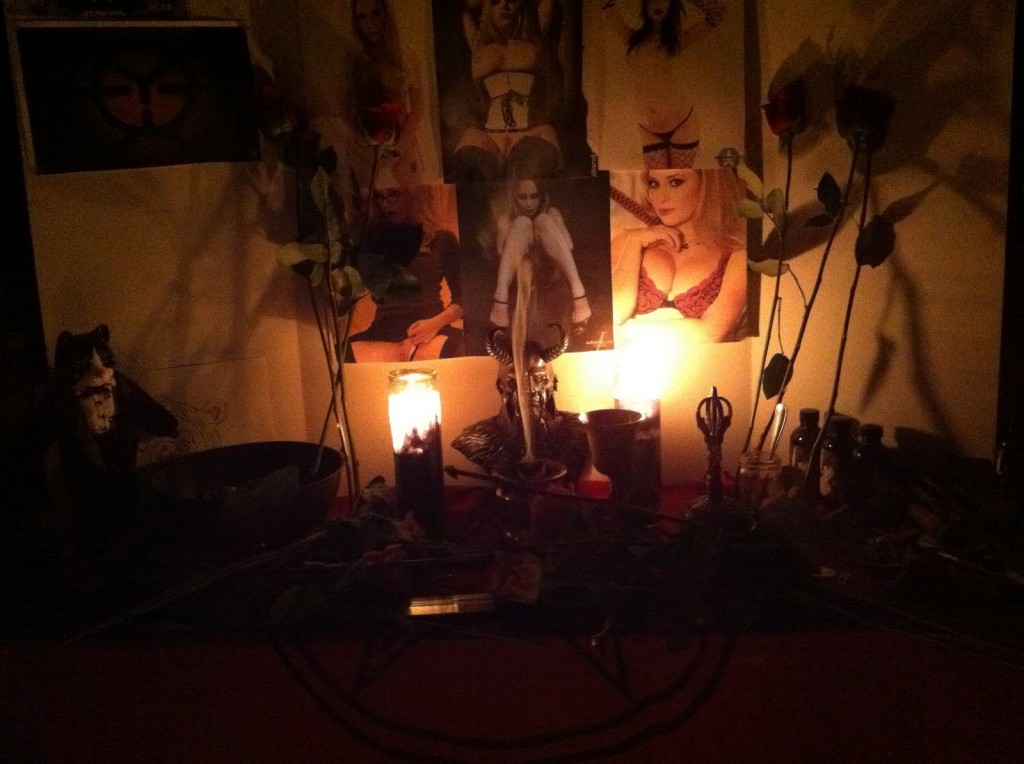 I played music pleasing to her, down-tempo with strong bass. I could give you a playlist but this is where you are much better off coming up with your own.
Last, I filled a jar with dirt from my garden, and water which sustained the roses.
Then I got to work building exitatory gnosis, using some inspiring video. As I sweat and breathed and pleasured myself, I gave her form in my mind. As I peaked, I called out her name.
I took my seed in hand and said the words, "Babalon, Lilith, Astarte, send me your servant. Let her be my servant. My muse." I plunged my fingers into the jar of wet earth. I added the cigar and the scotch and the rose petals. Sealed it, wrapped it in black cloth and set it on the back of my altar to gestate.
The ritual continues. I intend to give as much belief to my creation as possible. At the quarter moon I will feed this magickal child my blood. Also, as I said, if more people summon her, the more powerful she will become. Trust me, she can please more than one man.
I have had greater success with this working than similar ones in the past. She is surprisingly acid tongued, something I suspected but didn't realize what kind of effect it would have on me. Unlike my other summonings/creations she not only visits in my dreams but has appeared unbidden in my waking hours. She gave me quite a start when I looked over to find her in the passenger seat as I was driving.
If you do call upon her, please make sure to let me know how it goes for you.