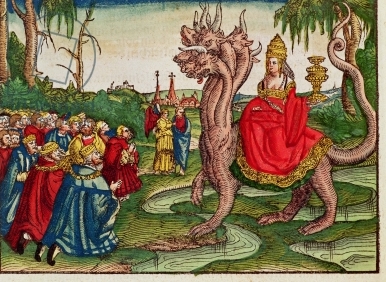 Who is Babalon? That's the most common question I get on Tumblr. (You're not following my Tumblr? You really should.) Wikipedia covers the basics, so if you're just curious about a deity you've never heard of, head over there. But I think the real question people are asking is, "Why are you obsessed with her? What is she to you?" In the end, all gods are personal gods. The gods influence everyone differently, that's why the best gods are complex in their symbolism. Like Babalon.
Remember, although she is a Thelemic deity, and I steal much from Uncle Al here, I am not a Thelemite, and my views are not necessarily the views of the OTO.
Foremost to me she is the goddess of the Eschaton. She brings sweeping change as she comes forth, astride the beast, Holy Grail in hand. She is the opposing force to The Host, the army of angelic automatons that demand obedience. I see a distinct difference between Eschaton—a universal change in consciousness, bound to cause upheaval, but inherently peaceful in nature—and Apocalypse—a battle to take people's will by force. She is the embodiment of the Love Revolution, but she recognizes that love is not always pretty and pure. It can be carnal and overwhelming.
For me, Babalon is Ishtar reincarnate for the New Age. Reborn, she strips away the trappings of state and the lays down her sword. She's a lover, not a fighter, but no less dangerous. She still goes forth with war banners, but she's smart enough to fuck her way to victory. She is the Divine Whore, and the Earth Mother, all in one. Her priestesses and priests wait outside the temple for anyone with coin. The act a sacrament to her, for both john and prostitute.
The tarot card associated with Babalon, Strength, tells us she does not do this as a servant, but as she desires. She's a whore, and opens her legs for all comers, but where and when she wants. She is not weak Christianized feminism that denies the power of womanhood. She revels in it, and equals any man in power and lust.
I was also recently asked a slightly different question, "What do people get out of worshiping Babalon?" Fair enough, if you're pagan, you look to each divinity for something unique. Babalon delivers.
She inspires you to change, and be the instrument of change. If the Goddess of Chaos is on your side, you quickly lose your fear of what's to come.
She helps you to love all people. She understands that unless people accept change on their own terms, it's not real. You can't force people to believe the way you believe, nor should you want to. I need her to smack me down on this point every damn day.
She helps you understand that you are both a spiritual and physical being, and that those aspects cannot be separated. You need your body, and you should fucking enjoy it, and enjoy having it fucked. If sexual energy inspires you, she will be your muse. You might even write a book about her.
She is a goddess of passion. Whoa be to you who fall under her spell. While I love Babalon, I am not a devotee for several reasons. One, because I'm married, and I don't think I could give Her and my wife proper attention at the same time. Two, because she will consume you if you let her, and you'll love her while she does. So while I may stick my hand in the fire and get burned, I will run back to the protection of Thoth and his books before I jump in.