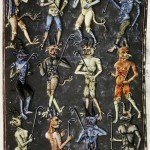 The Lemegeton, also known as the Lesser Key of Solomon, has been the most popular book on goetic magick for a few centuries now. It gives specific instructions on how to summon demons, sometimes translated daemons, and bend them to your will. It claims to be the ritual used by King Solomon, though no historical evidence can be found of the book before the 16th century.
On the list of seventy-demons are: Bael, obviously the Cannite deity Baal, who gave ancient Isrealites much consternation. Astaroth, believed to be taken from the goddess Astarte. The Phenex, sometimes translated Phoenix, yes the mythical bird, not the town in Arizona.
It would seem in their rush to portray the old pagan competition as the enemy, many entities that others would consider gods made the list. Hence the term, to demonize. So when a magician works with the entities in the Ars Goetia, what are they summoning? If you ask me, it's all about point of view.
It's obvious that the writer or writers of the Lemegeton meant to portray them as evil, nasty, infernal beings. Some wonder why churchmen, who were the ones who disseminated and used the book, would summon their enemies. The idea was, if you could put them to work for you, you could make them do God's work.
Many modern magicians work with the goetia. Some are iconoclasts looking for a thrill. Nothing wrong with that. It's good for people to be breaking down the cultural barriers in their minds, letting go of what they believe is possible and impossible. But more serious magicians work with it too, and they make no bones about it, what they are summoning are demons.
What is a demon? For me, a demon is an entity that appeals to the base side of my nature. They encourage me to be slothful, to rage when I should be calm, to pontificate when I should keep silent. They can be useful if done in moderation, but can easily take over your life and distract you from doing the things you should be doing. In the psychological model of magick, they are your shadow, a primitive ego monster, but also the drive for all creativity. Sounds pretty useful, aye?
There's, of course, a reason why such magick is labeled handle with care. One of these creatures running amok in your life can cause serious damage. Oh yeah, it has happened to me. Some magicians say you should successfully perform the Abramelin operation, the quest to gain your Holy Guardian Angel, before you even think about using goetia. I'm not so cautious, but knowing what these things could do, wouldn't it be wise to develop some self-defense? I recommend knowing and practicing a solid banishing ritual. You can read mine by signing up for the mailing list. But I'm not going to give you a big list of preparation you MUST do before summoning. I'm leaving that up to you.
I'm not going to tell you how to treat these enteties. I have had success treating them with a respectful firmness. But you can follow the Lemegeton, and act like they're your bitch if you want.
You're a big-person now. You can handle it.
Or maybe you can't. One thing I have found most useful about goetia is that it's going to teach you exactly how far you have come as a magician. In my experience, you will get some great results, or you will fuck-up spectacularly, or both. I have yet to see someone using it fall somewhere in between. In some ways, goetia is a magician's license to make mistakes. The only way we learn.
Peter Grey, author of The Red Goddess says, "Real magick has no safety net." So go ahead, step out on the wire. Falling is just like flying, at least for a couple of seconds.