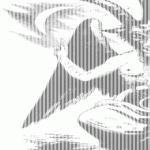 Special thanks to Arnaut Rosseau for once again asking the question that inspired a blog post. Please check-out his/her awesome blog. I guess all I need to do is keep my tumblr "ask" box open and I'll never run out of ideas.
Arnaut Rosseau asked, "How do you know when a god is present with you and what they are feeling?"
Anyone giving advice about religion or magick should always start out with, "In my experience." The difference between magick and science is that magick recognizes personal phenomena. What happens to you is important, even if it can't be measured by outside means. Some call this UPG or unverified personal gnosis.
I have had two experiences recently that I'll recount. Maybe you will get the same results, maybe you won't.
The first happened to me during simple meditation. I was musing on what material I should make a wand out of, when I had a vision of myself sitting around a campfire. Across the fire from me sat Baphomet.
One of my greatest faults as a magician is I have a busy mind. Meditation is hard for me. I'm always thinking. A benefit of this, however, is that I know intimately how my thoughts tend to progress. When forming a mental image, it shifts and changes quickly, morphing into the picture I'm looking for. Seldom do they come to me unbidden, and almost never fully formed.
I wasn't even thinking about Baphomet at the time. Though to be honest, I have a picture of him in my temple. In the vision he reached out to me, and a book appeared in my hand. Upon opening the book, it changed into a yellow flower.
I never did figure out why it was a yellow flower, but somehow, the message came through. He was telling me to learn more about the natural world. While I believe my knowledge of history and religion is up to par, I know shit about biology and nature skills in general. After this visitation I at least learned to identify trees by their leaves (thus harvesting wand material), and develop a greater appreciation for growing things.
My second recent divine visitation came upon request, while I performed the Invocation of Thoth. This one surprised me because Thoth came looming over my shoulder, some ten-feet tall. I always envisioned him as a scholar, but the Thoth behind me was a physically impressive being, muscled. You could feel the strength in him. He may have been trying to tell me that intellectual and physical strength are not mutually exclusive, and that I should get off my ass every once in a while.
You may say with both of these instances, you could say that all I was doing was tapping into my subconscious. You may be right. But if you're a chaos magician it doesn't matter. Just shift your perspective to the psychological model of magick. Then all the gods live in your subconscious anyway.
I wish I could truly tell you what the gods are feeling. I can only guess myself. I can only say they are not human, and they don't communicate like we do. I do believe that the goetic beings I have summoned are similar to gods, but less are-inspiring.
If you get a message, tell me what you think.