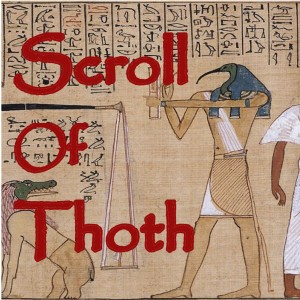 "Magic in its earliest form is often referred to as "the art".  I believe this is completely literal.  I believe that magic is art and that art, whether it be writing, music, sculpture, or any other form is literally magic.  Art is, like magic, the science of manipulating symbols, words, or images, to achieve changes in consciousness.  The very language about magic seems to be talking as much about writing or art as it is about supernatural events."
–Alan Moore
In this episode James and Colleen and their guest Shade OfRoses talk about magical influences, the books, movies, music, art and other media that shaped their magical practice.
Our new music is graciously provided by Shoeboxx Recordings. Check out their music on Soundcloud and like them on Facebook. The intro is a selection from Journey
You can listen by clicking the link below, download by right-clicking, subscribe to our RSS feed 
  in your favorite pod-catcher, or find us on iTunes.
People and things mentioned in the show:
Colleen Mentions
Music
The Beatles – Abbey Road, Sgt Pepper's Lonely Hearts Club Band
The Moody Blues – Days of Future Passed, To Our Children's Children
Books
J.R.R. Tolkien – The Lord of the Rings
Carlos Castaneda – The Teachings of Don Juan, Journey to Ixtlan
Jan Longwell-Smiley – Master of Disaster: A Tale of Manifestation, Mayhem, and Magic
Don Miguel Ruiz – The Four Agreements
TV Shows & Movies
Colleen & James
Joseph Campbell – The Power of Myth, The Hero with a Thousand Faces
 Shade OfRoses Mentions:
Artists
Books
Charles Yu – How To Live Safely in a Science Fictional Universe
Marion Zimmer Bradley – The Mists of Avalon
Jean Auel – Clan of the Cave Bear
Neil Gaiman – Sandman, American Gods, Anansi Boys
James Mentions
Wade Davis – The Serpent and the Rainbow, Light at the Edge of the World
James Gleick – The Information: A History, A Theory, A Flood
Christopher Ryan and Cacilda Jetha – Sex At Dawn
The Works of HP Lovecraft
Announcements
My Babylon by James L. Wilber A serial novel about the paranormal and dark desires. The story of a cursed young man who has an intimate view of the Apocalypse. My Babylon weaves elements of urban fantasy, erotic horror, and real-world occult practices, to form a unique personal tale that thrills, terrifies, and even enlightens.
My Babylon Complete is now available at Amazon as a Kindle ebook and in print.
Connect with James at, jameslwilber.com, Facebook, Twitter, and tumblr, and scrollofthoth.tumblr.com.
Connect with Colleen on facebook.
The ending music is Hair Dye the WTCHDCTR remix by Eest Coast.