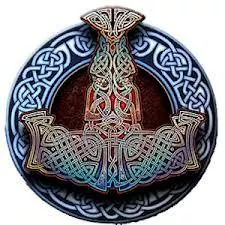 James and Colleen talk with Brian and Christie Jenkins about Asatru and the Troth.
You can listen by clicking the link below, download by right-clicking, subscribe to our RSS feed 
  in your favorite pod-catcher, or find us on iTunes.
People and things mentioned in the show
Brian and Christie are Gothi and Gythia of the Kvasir Brunner Kindred.
Announcements
Brian and Christie will be hosting YHS Asatru meetings at the Church Within in Indianapolis starting May 24th.
Brian, Christie, and Colleen will be speaking at the Southern Indiana Druid and Heathen Event (SIDHE): July 18 – 20, 2014 at Midian.
Find out more about Brian and Christie's events through the Facebook page Your Higher Self Indy, and learn about what festivals they will be participating in.
James will be giving a presentation on the Babalon Current in Modern Magick at the 2nd International Left Hand Path Conference in Indianapolis, July 25th-27th.
To celebrate the one year anniversary of Book One, My Babylon Complete Edition is on sale at Amazon and Smashwords for only 99 cents through May 1st.
Mentioned on the show, get Of Little Faith for free on Smashwords or for 99 cents on Amazon.
Call and leave a message for the show at 317-296-3247 or email james at scrollofthoth dot com.
Connect with Brian K. Jenkins and Christie Minor Jenkins on Facebook.
Connect with Colleen on facebook.
Connect with James at jameslwilber.com, Facebook, Twitter, and tumblr, and scrollofthoth.tumblr.com, http://magicalrecord.tumblr.com/
Please consider helping the show by using our Amazon search window and donating via Paypal.
Our music is graciously provided by Shoeboxx Recordings. Check out their music on Soundcloud and like them on facebook. The intro is a selection from Journey by Kouben, the ending music is Hair Dye the WTCHDCTR remix by Eest Coast.